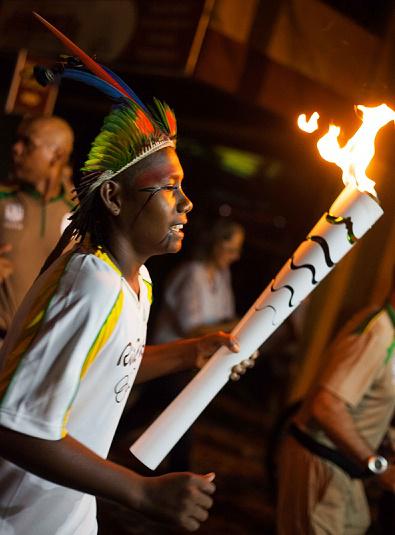 Breno Ferreira, 14, holds the Olympic Torch with pride as he takes part in the three-month torch relay marking the Road to Rio 2016. 

Ferreira is the first of six children and young people selected by UNICEF, in collaboration with the Rio 2016 Olympic Games, to carry the symbolic torch. Ferreira and the other five children and young people represent some of the challenges faced by millions of children across the world.

Ferreira has lived his whole life in the Pataxo community in the state of Bahia. He dreams of becoming a professional footballer and understands the power of sport in bringing people together. "For me, the best thing is everyone being together and having fun," Ferreira said. "I wish a lot of good things for all the children in my village and the world."

"The six children and young people participating in the Olympic Torch Relay represent the importance of overcoming inequality and giving all children a fair chance," said UNICEF Representative to Brazil Gary Stahl. "The right to sports should be protected for all boys and girls, with or without disabilities, indigenous or urban."

"The children and young people's participation in the Olympic Torch Relay signifies the right of all children to sport and play. Ferreira is supported by Instituto Tribos Jovens, a non-governmental organization that works with UNICEF and other partners in indigenous communities in northeastern Brazil to give children and young people access to sports including football and maraka, a traditional racing game.

"Breno's achievement is a milestone for his community", said Instituto Tribos Jovens coordinator Iane Petrovich. "We need to join efforts to ensure that all children, including the indigenous peoples, have the right to education, culture and sports so that they grow up in a protective environment," she said.
Source: UNICEF