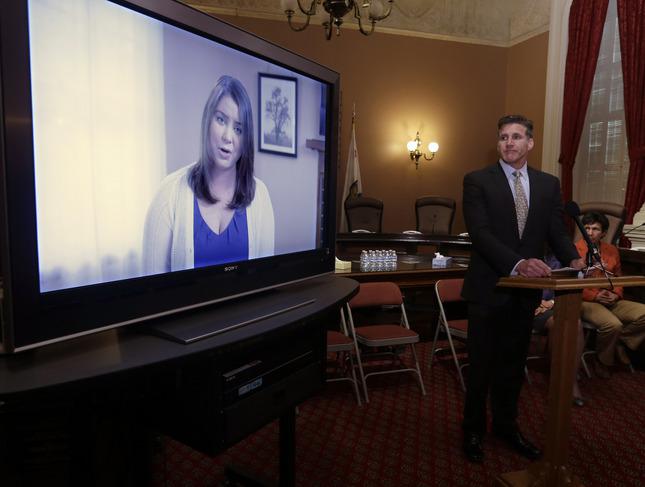 The lives of millions of girls giving birth under the age of 15 are at risk because they are slipping through the net of the system, Anne-Birgitte Albrectsen, the new head of child rights organization Plan International, said on Tuesday.
Globally it is estimated over 2 million girls under the age of 15 become mothers each year, but the number is uncertain as official data tends to only track births of women aged 15 to 49 even though girls can get pregnant from age 11 or so onwards.
Albrectsen, in her first major initiative since taking over at Plan International last September, has joined forces with the United Nations Population Fund in the #childmothers campaign to prevent early motherhood and support young mothers.
Launching the initiative, she said an estimated 70,000 girls aged 10 to 19 die from birth-related complications every year, but a lack of data on young mothers meant they were invisible in statistics and often overlooked in development policies.
"Most of the pregnancies have happened by force, and there is a lot of violence and fear going on," Albrectsen told the Thomson Reuters Foundation in an interview at Women Deliver, the largest women's health and rights conference in a decade.
"In most countries these girls don't even show up in the statistics so we don't have the information to persuade governments to take steps."
The campaign on young mothers is one strand of a broader mission by Plan International to improve data on women and girls to push for action, and to measure governments on progress to achieve the U.N.'s new set of global goals agreed last year.
The 193 member states of the United Nations committed last year to 17 global goals that include working toward gender equality and empowering women and girls by 2030, as well as tackling health, education and violence challenges facing women.
In a bid to hold governments to account, Albrectsen on Tuesday unveiled a plan for Plan International to work with the International Women's Health Coalition, accountancy firm KPMG, ONE Campaign and Women Deliver, to compile better data.
They will use existing and new quantitative and qualitative data, and monitor certain indicators to track the progress being made for girls and women across key stages in their lives.
"With clear information, we can identify where action needs to be taken so that girls can truly enjoy their rights to survive, learn, lead, decide and thrive," said Albrectsen, a Danish citizen who spent over 25 years in international development before joining Plan International.
Albrectsen, who has five daughters herself, moved to Britain to work for Plan International from the United Nations Population Fund (UNFPA). She has also worked with the United Nations Development Programme and led the Danish government's humanitarian and civil society affairs work.
As the chief executive of Plan International, she wants to ramp up the campaign for girls across the globe.
"The deepest inequalities and the deepest discrimination and the deepest rights abuses for children relate to the girl child," Albrectsen said.
"I would like Plan to become the go-to organization on girls' rights ... we will not be driven by a growth strategy but a results strategy."
The #childmothers campaign, launched at Women Deliver in Copenhagen, is a web platform and traveling photo exhibition that aims to give a voice to girls under 15 who become mothers.
Source: Reuters