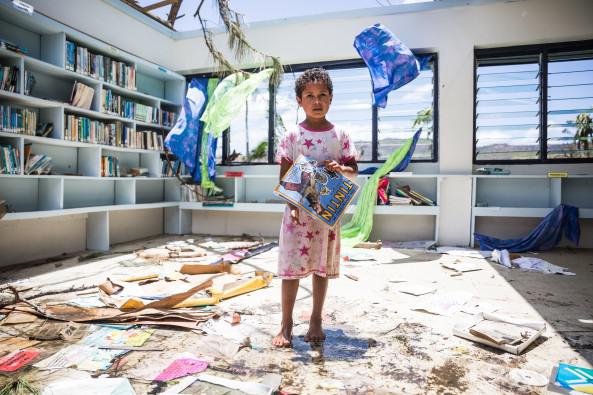 A greater humanitarian focus on schools before, during and after natural disasters will save lives, protect children and benefit communities and countries, Save the Children says in a report due out this week.
The report details the impact on education of earthquakes, floods and storms that struck Nepal, Myanmar, Indonesia, the Philippines and Vanuatu last year.
The disasters range from large humanitarian crises - such as the massive twin quakes in Nepal that killed 8,900 people - to the seasonal floods and storms that batter the Asia-Pacific region.
"The earthquake in Nepal had a huge impact on the country and received international media attention," said author of the report, Sarah Ireland, by phone from Melbourne.
"Floods in Indonesia happen every year, and we often don't hear about them," she added.
Researchers estimate the lives of 200 million children per year will be severely disrupted by disasters in coming decades.
Here are facts and figures from Save the Children's report.
INDONESIA * Between January and August 2015, Indonesia experienced1,160 disasters, including drought, forest fires, volcaniceruptions, landslides and floods. * Also during that period, there were 373 floods, affecting607,000 people, according to the U.N. Office for theCoordination of Humanitarian Affairs. * Rains in January 2015 submerged roads in Jakarta, and moredownpours in February caused further flooding, affecting morethan 27,000 people. * The floods affected 351 schools in northern Jakarta.Inaccessible and submerged, some were closed for up to twoweeks.
VANUATU * The Pacific island nation of Vanuatu is home to about250,000 people, with 64 percent of the population exposed tonatural hazards each year, including storms, floods, volcaniceruptions and earthquakes. * Cyclone Pam, a category 5 storm in March 2015, triggeredfloods that destroyed infrastructure, homes and livelihoods,affecting 80 percent of Vanuatu's people and leaving half thepopulation in need of emergency assistance. * More than half of schools were damaged or destroyed, and34,500 children were affected. * Schools were closed for up to 30 days, and 34 schools wereused as evacuation centers.
NEPAL * A 7.8 magnitude earthquake on April 25, 2015, followed bya 7.3 magnitude quake on May 12, 2015, killed 8,900 people,destroyed 605,000 homes and damaged 288,000 more. * About 3.2 million children were affected by the quakes,and of those, 870,000 were left without permanent classrooms. * More than 8,200 public primary and secondary schools weredamaged in the quakes. * Nearly 52,200 classrooms were damaged or destroyed.
MYANMAR * In June 2015, seasonal rains triggered heavy flooding inparts of Myanmar. * At the end of July, Cyclone Komen brought heavy rains andstrong winds, resulting in severe, widespread flooding thataffected more than 9 million people across 12 of the country's14 states and regions. * From June to October, the floods displaced about 1.7million people and damaged 4,116 schools. * About 250,000 children could not attend school because ofthe floods.
PHILIPPINES * In 2015, 14 typhoons and tropical storms hit thePhilippines. * Between 2007 and 2011, 10.8 million students in thePhilippines were impacted by disasters, and 8,472 schools wereused as evacuation centers. * Typhoon Koppu, a category 3 storm in mid-October, hitCentral Luzon, north of Manila, causing widespread floods andlandslides. * The typhoon displaced 1 million people and damaged 803schools, which were closed an average of two weeks, while 138schools were used as evacuation centers.Source: Save the Children, "Education Disrupted" report