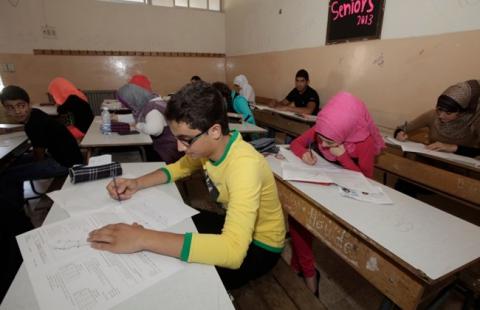 THE RIGHT TO EDUCATION
One of the most recent assessments of Lebanon education sector reveals that Lebanon overall trajectory is downwards with: "1) limited political commitment to education, with no new legislation enacted on education since 2007; and 2) unpredictable regressive education and financing policy"[1]. Other limitations include "pockets of fragile service delivery in the North , Bekaa and South and challenges such as confessionalism, institutional organizational fragility, sector inefficiencies and ineffective enabling private sector in education".[2]
More concretely, regional disparities in access to primary and secondary education exist in Lebanon. For Example, the average school enrolment rate for primary education reached 98.3% (98.4% girls and 98.3% boys) in 2009. However, when examining the rate at the sub-national level, findings reveal a discrepancy in enrolment rates in North Lebanon. For instance, primary enrolment rate is 97.5% in Akkar and Mineh-Denieh and 96.2% in the rest of Northern Lebanon[3].
Furthermore, the government is facing several challenges to: 1) narrow the achievement gap between private and public schools; 2) improve the performance of the Lebanese University and vocational and technical education;3) consolidate state supervisory and regulatory role over private education.
The country has also failed to produce a unified history book. According to the United Nations Special Rapporteur on freedom of religion or belief, Heiner Bielefeldt, this situation fuels sectarian tensions. According to him, "it is inevitable for the Lebanese society, especially the younger generation to tackle complicated facts of recent history in Lebanon," he added. "Without proper history teaching and memorialisation process, a climate of mistrust against each other between different religious communities may persist."
To move forward, abolishing political sectarianism is a prerequisite for reforming the overall system. A more equitable, less elitist path for education needs to be pursued with a particular focus on improving the quality of public schooling and promoting access to education in rural and remote areas in the Bekaa region and North Lebanon.
A comprehensive and inclusive education reconstruction programme that overcomes previous educational grievances needs to be undertaken. This would include reforming the Lebanese University and focusing on vocational training. It also includes the production of a new history book. Finally, the Lebanese state needs to enforce its supervisory and standard setting role, especially in relation to the private sector, to foster national unity and reconciliation.
---
[1] European Union, "Study on Governance Challenges for Education in Fragile Situations", 2009, p21
[3] CAS, MICS, 2009, p16.