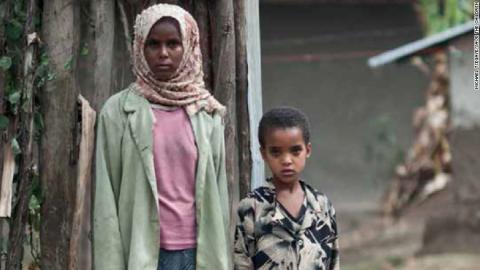 The statistics are startling: Around the world, every seven seconds, a girl under 15 is married.
Becoming a child bride is one factor that greatly affects the future of women and girls around the world, according to a report by Save the Children released Tuesday.
"Child marriage starts a cycle of disadvantage that denies girls the most basic rights to learn, develop and be children," said Save the Children International CEO Helle Thorning-Schmidt
"Girls who marry too early often can't attend school, and are more likely to face domestic violence, abuse and rape... They also bear children before their bodies are fully prepared, which can have devastating consequences on their and their baby's health."
The report, called "Every Last Girl," ranked 144 countries from the best to the worst in which to be a girl. The listing was based on child marriage, schooling, teen pregnancy, maternal deaths and the number of female lawmakers.
The stories of the child brides are harrowing and heartbreaking. Girls as young as 10 are being married off, in many cases with much older men, the global charity reports.
"Tamrea," a young girl from Ethiopia, is one example. She was married, pregnant and abandoned before she hit her teens.
Like the other girls whose stories are featured in the report, she chose not to use her real name.
"I was given to a husband at 12," she tells Save the Children. "I wasn't happy to get married at that age, but my father said there was nobody to look after me since my mum wasn't around. I wasn't happy. I was crying. I wasn't able to get used to what marriage was... When I became pregnant my husband left me."
Niger ranks last
The worst countries in which to be a girl are Somalia, Mali, Central African Republic, Chad and Niger, which all ranked at the bottom of the Girls' Opportunity Index.
"In Niger, for example, 76% of young women were married before they were 18, and one in five adolescent girls gives birth a year on average," Save the Children said. "All countries at the bottom of the ranking must focus urgently on ensuring that policy and practice uphold girls' rights in health and education, as well as in the household."
Countries at the top include Sweden, Finland, Norway, Netherlands and Belgium. The United States comes in at 32.
India has the highest number of child marriages of any country, partly owing to the large size of its population. In 2006, around 24.6 million females were married under the age of 18, according to the report.
Children caught in conflict zones
Girls caught in the middle of conflicts are more likely to become child brides, with many refugee families marrying off their daughters as a safety or coping mechanism.
Fighting in Iraq forced Saja, 11, and her family to flee. They now live in a camp for displaced people.
One study done in Jordan a couple of years ago shows about one in four Syrian refugee girls between the ages of 15 and 17 was married -- double the rate from before the start of the conflict, said Misty Buswell, Save the Children's Advocacy & Communications director for the Middle East.
"A lot of families see marrying off their daughter as one way to protect them," Buswell said in an interview from Amman, Jordan.
A 16-year-old girl from Homs illustrates the plight of many families in Syria.
"Tasnim" was married off to a relative in Lebanon after her father thought he couldn't keep her safe in Homs.
"Why are parents marrying off their daughters? Because of the kidnappings and rapes," Tasnim told Save the Children. "They think if they marry them, they will become the responsibility of the husbands and they will be safe... If it wasn't for the war, I would have continued my studies."
Poverty and humanitarian crises
Poverty and humanitarian crises are also mitigating factors in determining when girls might marry.
The shutting down of schools in the aftermath of the Ebola outbreak in Sierra Leone led to an estimated 14,000 pregnancies, Save the Children said.
Girls from poor families are more likely to be married early than their richer peers, the report explained. In Nigeria, 40% of the poorest girls are married by 15, compared to 3% of the richest girls.
Save the Children called on governments to provide fair financing, equal treatment laws and accountability to help end the trend. Change is possible with effort and investment, it said.
700 million married before 18th birthday
About 14 million girls under the age of 18 are ensnared by child marriage every year, according to the United Nations children's agency UNICEF.
It estimates the number of women married before their 18th birthday will grow from more than 700 million women today to around 950 million by 2030.
Let Girls Learn
Save the Children's report coincides with International Day of the Girl, which was set up by the United Nations in 2011 to recognize the rights of the 1.1 billion girls around the world.
US first lady Michelle Obama launched a mission to help young women achieve their potential through Let Girls Learn. She traveled to Morocco and Liberia with actresses Meryl Streep and Freida Pinto and CNN's Isha Sesay.
Some 62 million girls around the world are not in school, according to the US Agency for International Development.
Source: CNN